This blog post is sponsored. All opinions are 100% my own.
Taking care of your oral health is a must in my family. The habit of brushing our teeth started with both my girls the moment their very first tooth arrived. I wanted them to know the importance, and I wanted them to have good oral health.
I've personally been going to the dentist every six months as far back as I can remember. I think I started going when I was in Kindergarten. I had lots of dental work growing up. I had to wear braces for six years and for a time headgear. Definitely not cool. It was worth it in the long run because I have nice teeth. Well, I'm going, to be honest. I didn't wear my retainer, and I do have a gap in my front teeth. I kind of like it though. You better believe my daughter, who already has her braces off, has her retainers in every single night.
Oral Health & Enter to Win Oral B Vitality Electric Toothbrush
Everyone knows it's important to go to the dentist to have healthy teeth, gums and a winning smile, but did you know that the health of your mouth, affects every part of your body?
It's true. It's not only what we put in our mouth that matters but how we take care of it, that leads to a healthy heart, mind and body. Good oral health can limit your exposure to heart disease, stroke and memory loss. This is why it's so important to start taking care of your oral health early, a healthy mouth equals a healthy you!
The people at Smile Health Dental Plans know this and they have come up with one of the most simple and affordable Dental plans on the market today!
Smile Health Dental Plans would like to know how you take care of your oral health and what you do to ensure a healthy smile!
About Smile Health Dental Plans:
Smile Health Dental Plans are an affordable alternative to traditional dental insurance. Members pay an annual fee to receive discounts all year long. And with Smile Health Dental Plans there are no hidden costs, just savings of 20% or more on many preventative, restorative and cosmetic dental treatments. You get immediate benefits, no health restrictions, no waiting periods, no claims, no maximums, and more!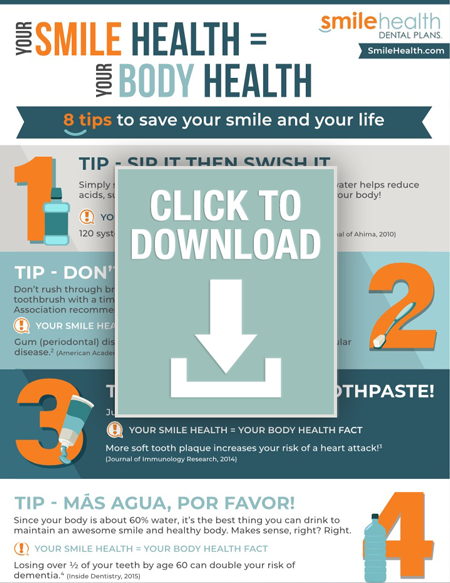 Enter to win!
1 - Oral B Vitality Electric Toothbrush
1 - Crest Pro-Health Toothpaste Travel Size
1 - Oral B Glide Floss
1 - Crest Pro-Health Multi-Protection Oral Rinse
1 - Smile Health = Body Health PDF pamphlet
Each household is only eligible to win "Your Smile Health = Your Body Health" Care Kit via blog reviews and giveaways. Only one entrant per mailing address per giveaway. If you have won the same prize on another blog, you will not be eligible to win it again. Winner is subject to eligibility verification.
a Rafflecopter giveaway